The iPhone 14 Pro Max is a cell phone product released by Apple on September 8, 2022.

The iPhone 14 Pro Max comes with a 6.7-inch OLED screen in four colors - Space Black, Silver, Gold, and Dark Purple - and measures approximately 160.7 mm in length, 77.6 mm in width, 7.85 mm in thickness, and weighs approximately 240 g.

The iPhone 14 Pro Max comes with Apple's A16 Hexa-core processor, a 12-megapixel front camera, and a 48-megapixel primary + 12-megapixel ultra wide-angle + 12-megapixel telephoto lens on the rear, with a non-removable battery.

Apple iPhone 14 Pro Max Price and Features
iPhone 14 Pro Max features an ultra-ceramic crystal panel, and a matte textured glass back with a stainless steel bezel. The display features rounded corners with four rounded corners located within a standard rectangle. When measured against a standard rectangle, the diagonal length of the screen is 6.69 inches.

Screen--
The iPhone 14 Pro Max features an ultra-retina XDR display with ProMotion technology, enabling the first AOD display on an iPhone with a 1Hz refresh rate and several energy-saving technologies.

Chips--
The iPhone 14 Pro Max features the A16 Bionic chip. This 6-core central processor delivers up to 40% faster and easier handling of high-load tasks.

Camera--
The iPhone 14 Pro Max features a 48-megapixel sensor. Improved low-light photography in the main camera, all with a quadruple pixel sensor with f/1.78 aperture and 24mm focal length.

Battery--
iPhone 14 Pro Max has a built-in lithium-ion rechargeable battery with up to 29 hours of video playback; streaming video playback: up to 25 hours; and up to 95 hours of audio playback.

Apple iPhone 14 Pro Max Case from OTOFLY

Using the premium liquid silicone material to provide an ultra soft skin-friendly touch feeling, provide a sleek but secure grip, and 1.2mm raised bezels around the screen and camera as well as the overall protection provides thoughtful protection for the whole phone. Increased thickness of the silicone. Microfiber lining inside keeps the back of your phone always looking like new. From its appearance, it's thin but still protective, and it's lightweight to hold and pick up. For this case, there are 20 trendy colors for your choice, solid colors and simple style make it both beautiful and elegant. Once it got stained, a wet cloth will clean it up. Most importantly, the iPhone 14 Pro Max silicone case is affordable and aesthetically pleasing.

By the way, there is also an iPhone 14 Pro Max silicone case with MagSafe for a wider choice, nothing different from the iPhone 14 Pro Max silicone case but this one is compatible with MagSafe.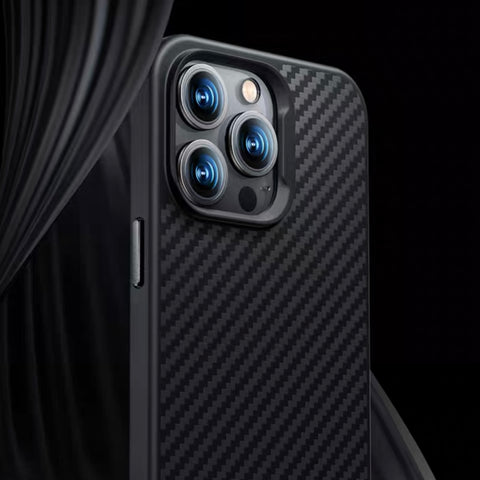 Made from superior quality Aramid Fiber and shockproof TPU, makes the Kevlar iPhone 14 Pro Max case is sturdy and durable. The protection of this case is significantly better than the same-quality phone cases. The metal plate built inside makes it possible to support all MagSafe accessories, which allows you to charge on the go or the road. Features a slim fit that is as thin as a credit card at the sickness of only 0.6mm, keeping it always slim and lightweight to carry. It also provides military-grade drop protection while adding no extra bulk. With the exceptional matte finish surface of the case, you will love the texture of the OTOFLY Aramid Fiber case for iPhone 14 Pro Max, it's smooth and will provide a perfect grip for your iPhone. The black color and minimalist design make it very looks pretty advanced, especially suitable for business people.
Adopting a high-hardness polycarbonate material, the sturdy iPhone 14 Pro Max case has increased protection and durability. With the multi-airbag technology strengthened on the inside, the clear iPhone 14 Pro Max case can provide thoughtful protection against impacts, drops, and scratches. With the ultra-clear polycarbonate backplate, this iPhone 14 Pro Max case will provide a comfortable grip, it will stay clear and would never get yellowing whether due to sweat or stains. The Built-in MagSafe ring makes it convenient for fast and easy wireless charging, and with the MagSafe ring, it's easy to attach to various MagSafe accessories including the MagSafe charger, car mount, and so on. 1.5mm raised screen edge and 3.0mm raised camera edges aiming to provide comprehensive protection against drops and friction. Five beautiful colors are provided.

If you can't make up your mind to choose an appropriate case for your iPhone 14 Pro Max, please feel confident about OTOFLY and give it a try, it will be a surprise!